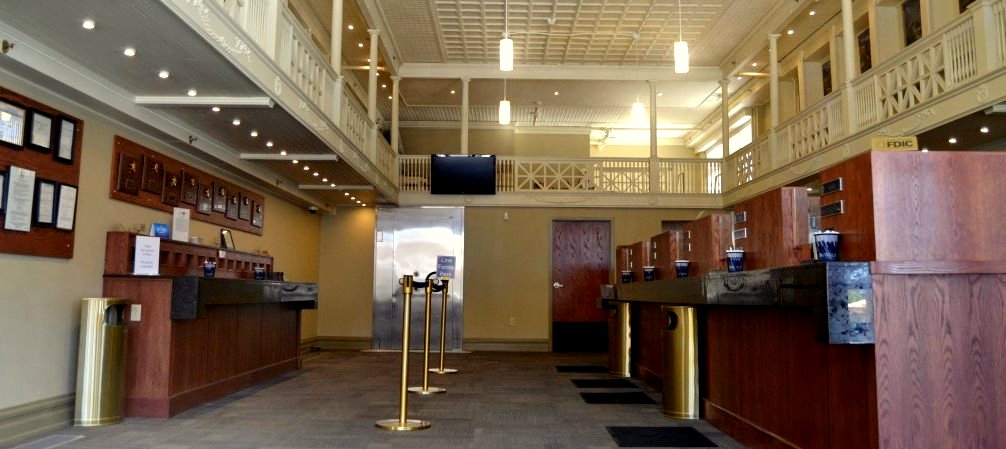 History of the Bank
Community 1st Bank Las Vegas originally opened on December 17, 1949, at 517 6th Street, as the First National Bank in Las Vegas. In 2005, the bank changed its banking charter from a national to a state bank to better reflect its role in serving northeastern New Mexico. On June 27, 2011, the bank moved its main office 100 yards up the street to 600 Douglas Ave. occupying the entire Crockett Building, more commonly known as the home of Murphey's Drug Store.

With 4 locations to serve our customers on-the-ground, and with this great website to serve our customers anywhere in the world, we feel that we have all the bases covered with our wide-range of products and our excellent customer service. The bank was started and continues to adhere to the philosophy of serving the people and businesses that call this corner of New Mexico home. We invite all to stop by and see how we can help them with their banking needs.

Mission Statement
The Bank's Mission Statement
The Mission of the Community 1st Bank Las Vegas is to operate in a safe and sound manner while meeting the financial needs of the Bank's designated market areas of Mora and San Miguel County. These needs should be met while providing the highest possible level of customer service and in a manner which enhances the Bank's image in the community. The Bank will strive to maximize its sustainable earnings within established guidelines and will endeavor to pay dividends while maintaining acceptable capital levels. The Bank recognizes that growth is a sign of a viable organization but will never encourage growth at the expense of safety/soundness or profitability of the Bank.
The Bank primary markets are consumers and small businesses; including the needs of low-to-moderate income individuals. The primary basis for evaluating the acceptability of loan applications is the potential borrower's capacity to repay.
The Bank recognizes that the accomplishment of its mission is dependent upon the following:
Maintenance of adequate capital and quality assets;
Policies, procedures, and plans which adequately identify and limit the level of risk incurred by the Bank and provide for monitoring of same;
Profitability;
An employee base which is stable, well-trained, and committed to the Bank's mission;
A professional and well-informed management team;
A commitment to provide a high level of customer service;
An actively involved and well-informed Board of Directors;
Actively involved and well-informed Community Advisory Boards; and,
A complete understanding of the regulatory environment we operate in.
The success of the Bank will be determined by the extent to which the Bank accomplishes its mission.